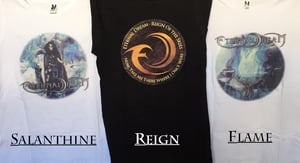 €

15.00
[ESPAÑOL ABAJO]
Get the perfect pack of Eternal Dream, our first release "The Fall of Salanthine" and a T-Shirt with a perfect Sale prize!
The album its presented in a jewel box and comes with a 16 pages booklet, with photos and lyrics.
The current designs of T-Shirts of Eternal Dream can be chosen among three designs, "Flame", "Salanthine"or "Reign".
Select your Size and model.
--------------------
Consigue el pack perfecto de Eternal Dream, nuestro primer disco "The Fall of Salanthine" y una camiseta con un precio especial de oferta.
El álbum se presenta en formato jewel box and comes con libreto de 16 páginas con fotos y las letras.
Los diseños actuales de camisetas de Eternal Dream son: "Flame", "Salanthine"or "Reign".
Selecciona tu talla y modelo